People are talking…but are you listening? Social listening has become a priority for many brands, with 2/3 of marketers affirming an increase in its value within the past year. Usually understood as a social media effort, ImageThink builds on top of underpinning ideas of social listening to unlock valuable insights from our clients and their audiences with an illustrative approach.
From Connection to Vital 21st-Century Marketing Tool
The diverse landscape of interactive digital channels we know as social media has revolutionized our world in a multitude of ways. From connecting with family, friends, colleagues and like-minded individuals around the globe on Facebook and LinkedIn, to sharing information and interests instantaneously on Twitter and Instagram, social media has proven its bandwidth for multiple functions and continues to evolve each day.
Simultaneously, these platforms have also become an enormous outlet for businesses, allowing them the ability to engage with consumers directly. Even greater than social media's worth as a mouthpiece, is its value as an earpiece. With a vault of data about their customers, potential customers, competitors, and industry at their fingertips, brands have begun capitalizing on what is available to them through social listening.
As defined by HubSpot, social listening is, "…the monitoring of your brand's social media channels for any customer feedback and direct mentions of your brand or discussions regarding specific keywords, topics, competitors, or industries, followed by an analysis to gain insights on those opportunities." Social listening is beneficial to businesses for a number of reasons, including its ability to improve customer service, identify trends and brand advocates, and expand market knowledge. This deliberative surveillance can provide immediate, actionable business intelligence more valuable than any consultant could conjure.
How We Help Our Clients Social Listen
Similar to social listening in the social media context, the idea behind ImageThink social listening murals is the belief that there is something of value to be gained just by listening. ImageThink social listening murals are an interactive way to capture input from conference, tradeshow, or eventgoers. These valuable insights can be analyzed and used for future research, business initiatives, and projects.
Yet, unlike social listening in the social media context, our approach is more proactive than reactive. Our SLMs are established in an energized learning environment, which makes for a more positive experience and helps streamline creativity. The audience is engaged directly, has ownership over the final output, and the process is immediate. Clients can gather insights and deepen their relationship and engagement with their target audience all at once.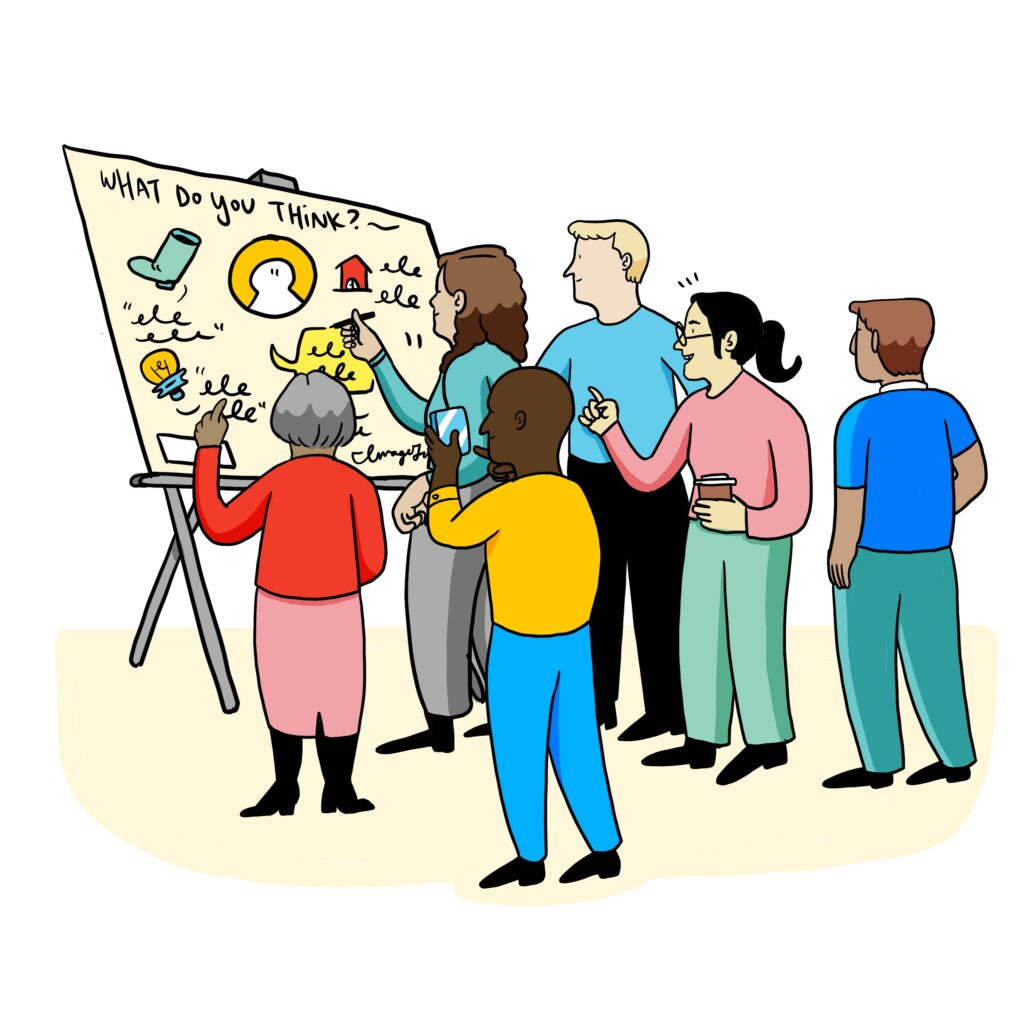 It's this dynamism combined with a targeted question that makes ImageThink's version of social listening so valuable. With one question, you can gain a wealth of knowledge and deepen rapport with a group of willing participants.
Insights From Your Most Engaged Audience
Conferences, tradeshows, and events where leaders, employees, and industry enthusiasts gather to learn, share, network and more, make for an incredible opportunity for businesses to gather insights. And anyone who participates in these functions knows that the name of the game is standing out amongst the crowd. What better way to do so than with a powerful question and eye-catching illustrated responses?
ImageThink's social listening murals can be tailored to any sponsor's look and feel. Designed with questions of your choosing specific to you needs, yet broad enough to warrant myriad unique responses, a social listening mural is a fun and exciting way to generate interest and draw your audience in. The interactive nature of our service helps increase engagement and length of engagement between our clients and their audience. And more, the high visibility of our boards make sponsorship, partnerships and supporting brand promotion simple.
The final board memorializes an event and makes for a great piece to share internally or externally.
Actionable, Meaningful Takeaways
Okay, you have a visual board of audience insights. Now what?
Depending on what goal you are trying to achieve, the information attained and illustrated by an ImageThink visual strategist will reveal a number of opportunities for your business and pave actionable steppingstones forward.
For example, we recently worked with client Eastman Chemical, who wanted to ensure their message of sustainability and eco-friendly developments wasn't lost in a crowded tradeshow. Can you guess what we proposed to do? In two prompts: "What does sustainability mean to the coating industry?" and "How will sustainability initiatives change the coating industry?" we managed to increase engagement and time spent at Eastman's booth. Beyond that, our boards allowed the company to gauge feelings of a crucial audience on their developments and uncovered opportunities to pursue in the future.
But that's just one example. Here's a selection of other ways the value of an ImageThink social listening mural extends following an event:
Define or renew a corporate purpose
Illustrate an organizational story
Fasttrack audience persona generation
Prioritize goals
Create actionable steps for new product development
Develop new initiatives and projects
"Read the tea leaves" of your customer base
…And more!
Really, the possibilities are (mostly) endless. Whether you're looking to draw individuals in to engage with your brand, or uncover new business initiatives through illustrated attendee insights, an ImageThink social listening mural is the perfect way to connect with your most engaged audience.
Transform your event, transform your business
Our team of visual strategists are ready to capture takeaways and draw your next idea today.