Graphic recording is the real-time translation of conversations or presentations into text and pictures. It takes advantages of the human brain's preference for visuals to enable meeting and conference attendees an opportunity to absorb, connect with, and build off of information in astounding ways. ImageThink visual strategists do three things simultaneously when graphic recording: they listen for key ideas, synthesize them, and document them in visual form.
Elevate Meetings
Our facilitators draw on over a decade of experience running meetings for the biggest companies in the world. Our process begins with a consultation designed to uncover your meeting's true objectives and includes robust and detailed agendas, custom visual templates, and exercises that ignite creativity.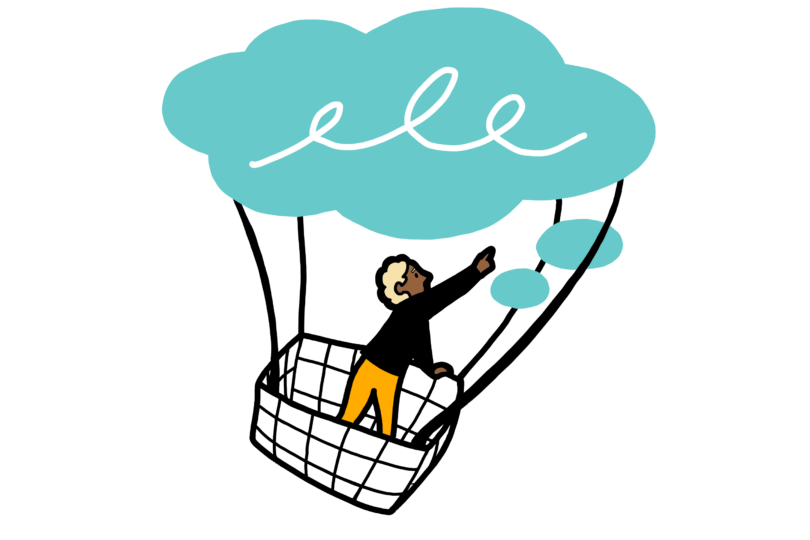 Drive Transformation
Capture and communicate your most valuable insights with beautiful and informative visual storytelling. ImageThink may be best known for its on-site visual note taking, but our team also creates elegant, eye-popping strategic visuals for clients in our studio, allowing for more consideration, collaboration, and iteration.
Captivate Audiences
With keynote graphic recording and social listening murals, ImageThink helps solidify information into memory, and facilitate attendees' direct engagement with the ideas and brands you want to feature. The striking visuals across ImageThink boards are perfect for your audience to share on social.
How Does ImageThink Do It?
In-Person
Analog on foam core boards using markers or digitally piped into to an onsite AV system, participants can interact with our visual strategists and the art first hand.
Hybrid
Ideal for distributed teams, a visual strategist can join on site or online to stream the visual capture to participants around the globe, at home or in another office.
Remote
For fully remote teams, get the fully digital experience of graphic recording performed over any virtual meeting platform. Visuals can be the spotlight, or shared during breaks.
Frequently Asked Questions
What is graphic recording?
Graphic recording is much more than graphic design or illustration. While drawing skill, composition and visual fluency are required, graphic recorders and graphic facilitators are not simply artists in meetings. ImageThink's visual strategists do three things simultaneously when graphic recording: they listen for key ideas, synthesize them, and document them in visual form.
Is graphic recording for my organization?

Every organization and department can benefit from graphic recording. Graphic recording is a tool ImageThink visual strategists use to help clients at blue chip companies drive innovation, communicate big ideas, and align on strategy. 60% of the population self identifies as visual learners, and research shows that engaging multiple sensory inputs when consuming materials leads to better retention and connection. Graphic recording is a great way to lean in and take advantage of our nature.
What are the benefits of graphic recording?
In a presentation, graphic recording increases engagement and memory-retention for the audience. Many people are visual learners, and studies indicate that people remember more information when combined with visuals than they do from spoken words alone.

During a brainstorm or strategy session, a skilled graphic recorder will synthesize all of the group's contributions into a coherent visual while revealing connections between ideas that might otherwise have gone unnoticed. This promotes creative thinking, collaboration and deeper engagement by capturing everyone's contributions and creating a literal collective vision.

At a trade show, convention, or conference, graphic recording adds a human element to branding, marketing, and booth design. It engages participants at a conference and can illustrate their voices while capturing insights and ideas. And ImageThink's social listening murals create a dialogue with attendees.
What medium do graphic recorders use?
The short answer is that ImageThink visual strategists can perform graphic recording on just about any surface. Whether it is classic markers on foam core boards, sharpies on flip charts, dry erase markers on a whiteboard, or grease pens on glass, we're comfortable with any analog medium.

Increasingly, our clients elect digital graphic recording, which we do via tablet, as it is infinitely scalable, editable, and can directly be streamed to remote and hybrid teams. Digital graphic recording also allows for a lot of flexibility in post-event editing of your visuals.
What kind of training do graphic recorders need?
Currently, there is no institution that offers formal education or certification to become a graphic recorder or graphic facilitator. This leaves prospective clients with little formal guidance when evaluating the experience and expertise of the practitioner. Graphic recording rates vary from practitioner to practitioner, and also may depend on event type or location. However, there are a few things to look out for when choosing your graphic recorder to ensure the best experience and result.
How is graphic facilitation different than graphic recording?
Whereas graphic recording focuses on capturing and organizing information in a visual format, graphic facilitation takes a more active approach in shaping and leading a group conversation. A graphic facilitator might employ pre-populated templates like mind-maps or customer journeys to guide a discussion and ensure that crucial topics are addressed.
What experience and background do visual strategists have?
Unlike many other professional services and consultants, there is no formal educational training or certifications for graphic recording. Our visual strategists undergo rigorous training over several months, and our creative development and client services teams ensure that every job is appropriately scoped and that your practitioner will be well prepared and versed in your company's unique needs.
What types of events are graphic recorders capable of supporting?
Graphic recording should always be tailored to the specific event and its unique objectives, which can vary considerably. From large scale, high-visibility events, to internal brainstorming and strategy sessions, to the most confidential patient advocacy sessions, ImageThink visual strategists can provide graphic recording in any environment.
What business liability insurance do graphic recorders carry?
At ImageThink, we recognize that our clients' conversations and intellectual property is their most valuable asset. Most sessions are highly confidential and often pertain to business strategies or trade secrets. For your protection, we are willing to sign an NDA.
What is included when you hire a graphic recorder?
ImageThink visual strategists will work with you during the planning phases of your agenda. They will offer expert guidance on how best to integrate their visuals into your meeting in a way that supports your meeting objectives, rather than serving as a distraction. Our services also come with a full complement of pre and post event support to ensure you get the value you're paying for.
How much does graphic recording cost?
At ImageThink, we price our strategic meeting facilitation, graphic recording, and in-studio visual services according to the nature of your engagement – whether it's an internal meeting or public conference, for example – and how much support you need. Staffing, time, and materials are all factors in our rate card. Get in touch to discuss how we can help bring your biggest ideas to the surface and we'll provide you with a custom quote.