Guest Blogger Mike Rohde on Travel Sketchnote
May 27, 2011


We couldn't be more excited to feature famed Sketchnote artist Mike Rhode this Friday as we go into Memorial Day weekend. For everyone packing up and out of New York, or your hometown across the country, Mike has some advice on how to record your adventures. Travelogue Sketchnotes :The Why and How of Bothering to Sketchnote Your Travels By: Mike Rohde  This morning as I prepared to create some sketchnote art for the Image Think blog, the idea of capturing travel as sketchnotes immediately came to mind. I've long felt the effort of capturing my travel has been a huge blessing during and especially after my trips. During trips I'm often so engrossed in the experience, it's difficult to make time for capturing what I've lived. However, when I've made time for recording my experiences, the notes and drawings I've captured have become a wonderful way of re-living my experiences — even years later.
Having just come back from a trip to Washington DC, which I captured as sketchnotes, the reasons and how tos of capturing travel were fresh in my mind. Why Bother Sketchnoting Travel? That's a great question. It certainly means more work, but I contend that because we have pretty terrible memories in general, not capturing your travel is shortchanging your owm long-term memories of a memorable trip. When I went to Alaska's Inside Passage on a cruise ship in 2009, I made time to capture sketchnotes of the experience. Two years later I can look at these and recall vivid memories of our trip — both memories recorded in ink and related memories they bring up.
Beyond remembering your own travels, getting your thoughts in a book may be a way to reach to your friends, family, children and even grandkids one day. Unlike images and words websites that may one day go dark, paper has proven it can stand the test of time.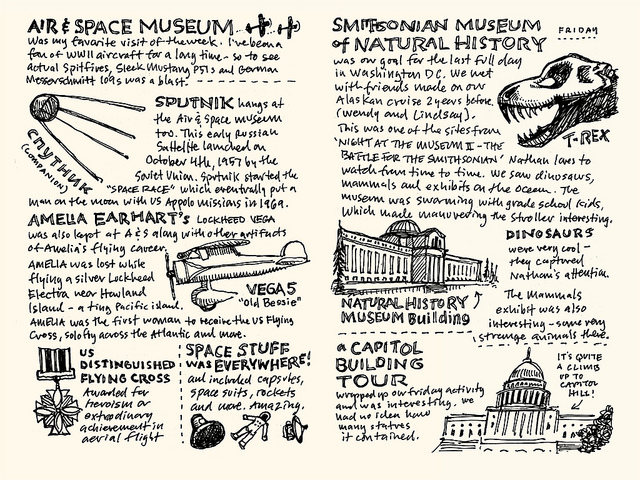 How To Sketchnote Travel I've captured three ways to prepare yourself for sketchnoting on the road: 1. Pick a Great Notebook – I love Moleskines but there are many other great notebooks out there. Pick one which will work well for your needs (e.g. maybe a pocket notebook is more likely to come along when you need to capture a thought). Bring a backup, just in case. 2. Carry Several Good Pens – Nothing beats writing with an awesome pen. Find one that works for you and then carry spare pens and refills so you aren't stuck without ink in the middle of capturing your travels. 3. Take Photos Too – In DC I used my camera for shooting things I wanted to draw later on in the hotel room and also used it to capture images of my notebook in case it was lost or damaged during the trip. You might even consider posting notebook shots online or emailing them to yourself immediately, in case your camera gets lost too. I think the best advice I can give is to simply give sketchnoting a try on your next trip. Maybe you simply write a journal with a sketch here or there in the margins. Find time to work this practice into your trip and enjoy the process — you'll be happy you did when you get home. About Mike Rohde Mike Rohde, who writes about design, sketching, drawing, sketchnotes, technology, travel, cycling, books, music, film and more. Visit Mike's design site  Rohdesign

Tagged: